The JCU Group understands the risks that can potentially have a significant impact on the fulfillment of our business targets and business activities, and formulates risk reduction measures based on this understanding. In addition to establishing an internal system for preventing risks, we have made necessary preparations and conducted training to minimize damage and loss as much as possible in the event that a risk should materialize.
Risk Management Structure
The JCU Group has a Risk Management Committee chaired by the President and CEO under the Board of Directors. The Committee is made up of internal directors and a number of Executive Officers. A meeting of risk management leaders appointed by individual departments is installed under this Committee. At the Risk Management Promoters' Meeting, the details of risks extracted from each department are scrutinized, and the degree of danger, current countermeasures, and other relevant information are discussed.Numerous and lengthy discussions will be held from a variety of perspectives. The content of these discussions is promptly reported to the Management Committee which reviews the report from a management perspective to identify the risks that are ultimately key for the JCU Group, and determines the countermeasures to be taken at individual departments.
◆

Risk management schematic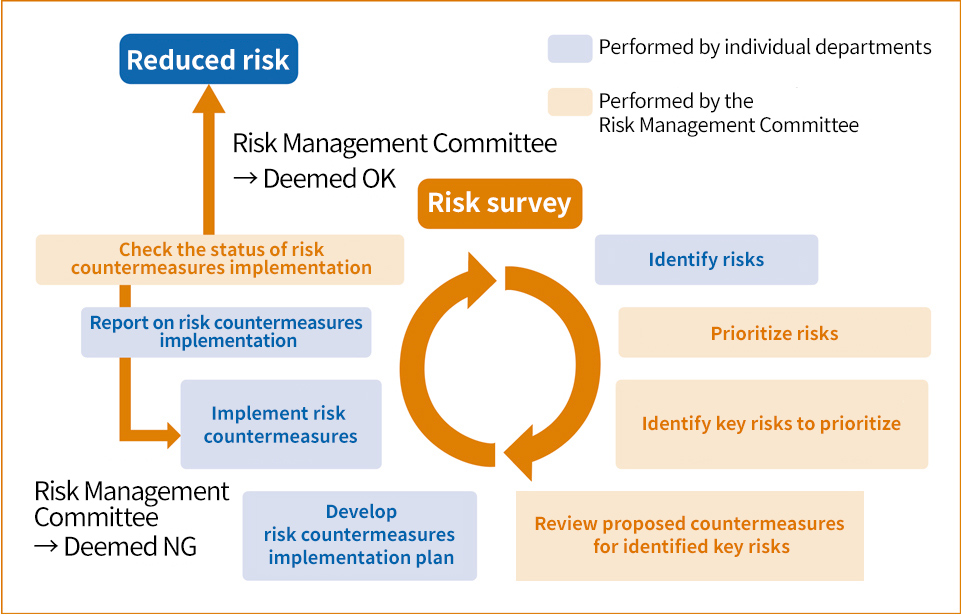 ◆

Risk management structure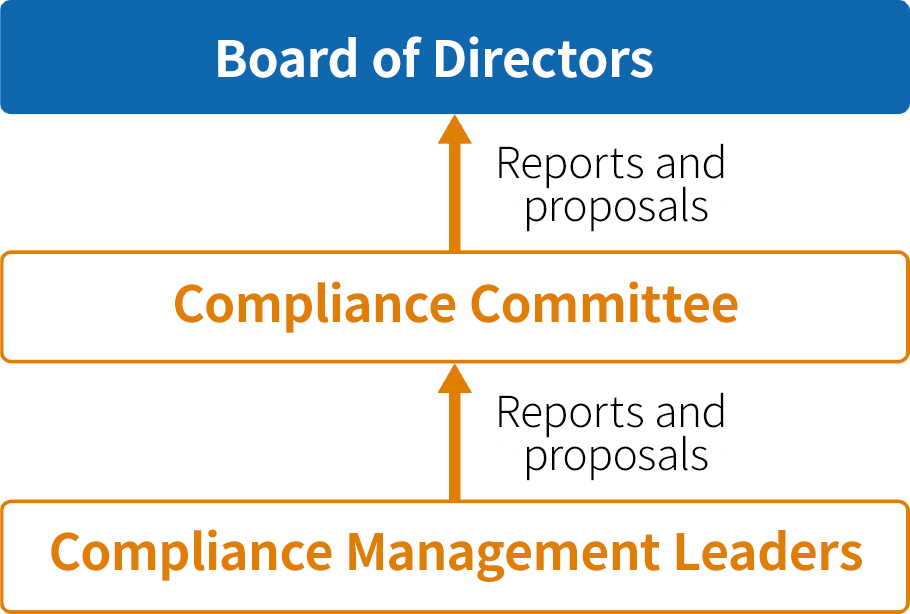 Key Risks
The Risk Management Committee has identified the following risks as being the 21 key risks for our Company: We will make every effort to continue to strengthen our risk management.

Driving Forward Business Continuity Management (BCM)
To prepare for unforeseen events, the JCU Group has a Business Continuity Plan (BCP) in place so that we are able to continue our operations and minimize the impact on our customers even in the event of an emergency. We hold briefing sessions on our business continuity plan and distribute booklets explaining the outline of our BCP to raise awareness among employees at all business sites.
The major emergencies that our BCP prepares for include intense earthquakes, storms, floods, fires, IT failures, and supply chain disruptions.
Continuing from 2020, COVID-19 cases continued to spread worldwide in FY2021. In response to this major disaster, the JCU Group took measures to prevent infection including requiring personnel to thoroughly wash and disinfect their hands, and wear masks. Various infection prevention measures were taken at domestic and overseas sites, including promotion of web conferencing and travel restrictions. Overseas subsidiaries made every effort to minimize the impact of infections on their businesses by implementing measures in accordance with infection prevention measures that were required in their respective countries and regions.
Introduced a Safety Confirmation System
As part of our BCP, JCU has a safety confirmation system in place that enables us to easily and quickly confirm the safety status of our employees during large-scale disasters, or nationwide/global epidemics/pandemics of communicable diseases. Multiple times a year, we conduct safety confirmation drills on an irregular basis using this system to prepare for emergencies.
Conducting Drills
At JCU, we systematically carry out BCM drills to raise awareness among executives and employees, and to clarify their roles in the event of an emergency.
In FY2021, the Niigata Plant conducted a drill for setting up an Emergency Response Headquarters. Under the assumption that a large-scale earthquake had occurred, simulations were conducted including on declaring the BCP into effect, checking the damage in each department, and reporting to the head of the BCP response headquarters. Through this training, we identified how each of us would operate in a contingency and what obstacles we would face.
In the event of an emergency, we set up emergency response headquarters at affected offices, and a BCP response headquarters at the head office. If this is difficult to set up at the head office, it is to be set up at an alternative office in accordance with the manual.