The JCU Group recognizes the importance of its corporate social responsibilities, and in order to fulfill our responsibilities, has established the "JCU Code of Conduct" as a code of compliance and ethics.
Promoting Compliance
Based on the JCU Code of Conduct, the JCU Group always complies with relevant laws and internal rules in all aspects of our corporate activities, and promotes compliance so that all of our corporate activities comply with normal business practices and social ethics. This Code of Conduct has been translated into seven languages other than Japanese: Chinese (Traditional and Simplified), Korean, English, Vietnamese, Thai, Spanish, and Indonesian. The Code of Conduct translated into each language is communicated to respective local subsidiaries in light of local customs and laws. Furthermore, our Corporate Philosophy, CSR Policy, JCU Spirit, and Code of Conduct are distributed to all executives and employees of the JCU Group to ensure that they are all well-informed.
Compliance Promotion System
The JCU Group has a Compliance Committee (chaired by the President and CEO) under the Board of Directors where top management take their own initiative in driving compliance forward. The Compliance Committee is made up of internal directors and a number of Executive Officers. A meeting of compliance management leaders appointed by individual departments is installed under this Committee. Compliance management leaders make every effort to gather information on legislative revisions and gain an understanding of issues through subcommittees and other organizations for each of the different areas of laws and regulations. The Compliance Management Leaders Meeting discusses the sharing of practical information within the company and matters that should be reported to the Committee, and the content of these discussions are promptly reported to the Committee. The Committee reviews the report from a management perspective, decides what actions to take as a company, and has the relevant departments execute on these decisions.
◆

Compliance Promotion System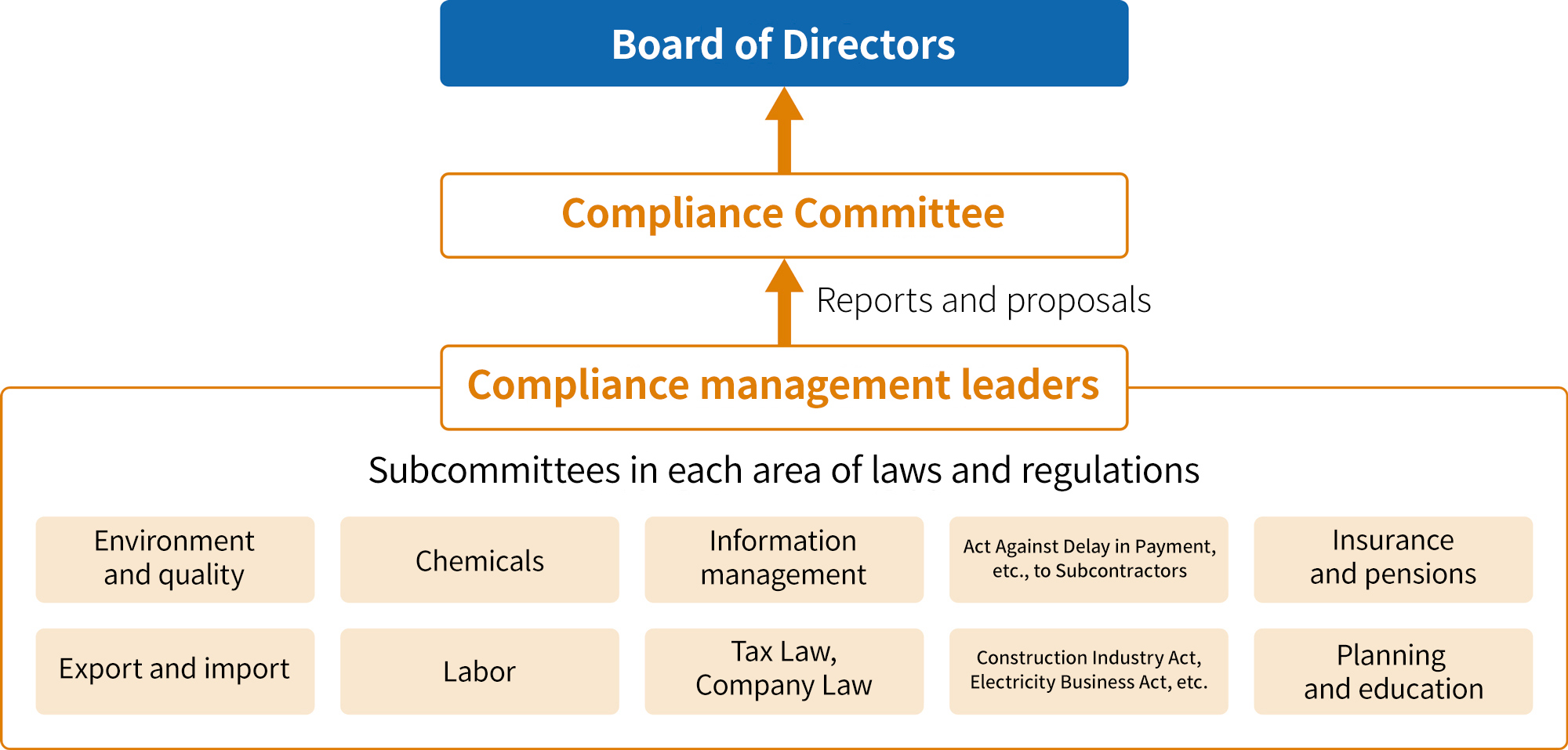 Compliance Initiatives
The JCU Group has established rules and guidelines, organizes training, and prepares and distributes manuals in order to ensure that everyone is well-informed on the Basic Code of Conduct which represents our basic approach to compliance. In addition, we conduct internal audits of the Group to detect problems at an early stage.
Furthermore, as part of our activities to drive these initiatives forward, we are looking into providing education on laws and regulations applicable at different sites, as well as learning opportunities using an e-learning system formatted for individual participation.
The Niigata Plant, R&D Center, and overseas subsidiaries hold study sessions on business-related laws, and on chemicals that require special attention for handling. We also advance compliance by conducting checks on the levels of employees' understanding and evaluations of their abilities.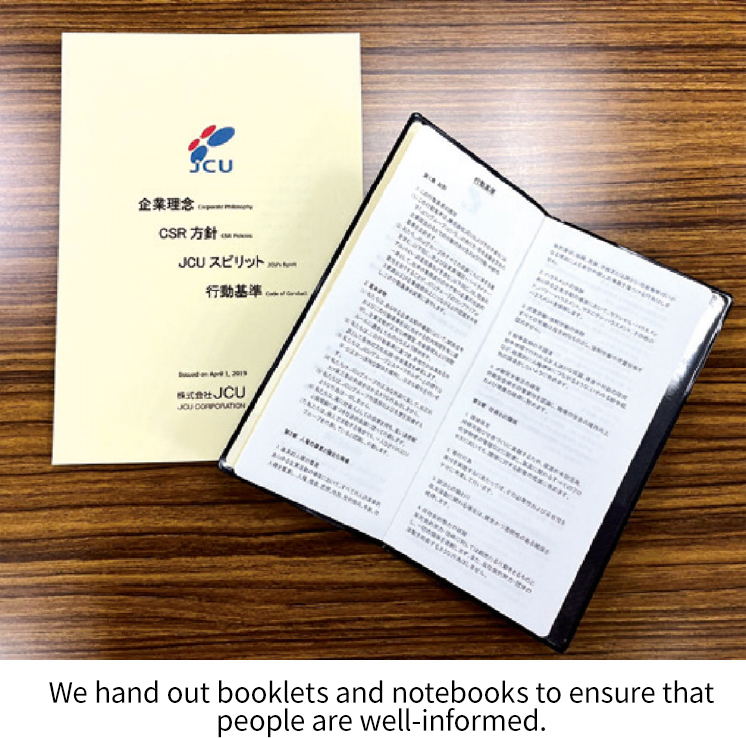 Installation of the Internal and External Reporting Desk
For the purpose of detecting and correcting misconduct at an early stage, and to help strengthen our compliance, the JCU Group has a desk for internal and external reporting, and a system for properly acting on reports given by JCU Group executives and employees, as well as business partners, etc., on legal and regulatory violations committed by organizations or individuals.
◆

Internal and external reporting desk

Nagamatsu & Yokoyama Law Office
Person in charge: Toshihide Yokoyama, attorney-at-law

Suite 806, 8F, Kioicho Building, 3-12 Kioicho, Chiyoda-ku, Tokyo
〒102-0094
FAX: 03-6910-0746
Email: jcu.hotline@n-lo.com
Installed the Compliance Consultation Desk
Apart from the internal and external reporting desk, the JCU Group also has a compliance consultation desk that makes it easier for persons to seek consultation on compliance-related questions that they may have about the company. Information on the compliance consultation desk is provided in the Compliance Manual posted on the intranet to ensure that everyone is well-informed.
Initiatives to Eliminate Antisocial Groups
The JCU Group has set out the elimination of antisocial groups in its Code of Conduct. We have no relationships with antisocial forces or organizations that pose a threat to social order or sound corporate activities, and make every effort to eliminate such groups in cooperation with competent authorities and relevant organizations.
Disclosure on Sustainability Initiatives
The JCU Group has set forth its vision of becoming a "global company that continues to grow sustainably," and has committed itself to manage its business by linking its operations to ESG and SDGs. A company that continues to grow sustainably by our definition has the four attributes listed below, and we have formulated and implemented strategies to realize these visions in our Medium-Term Corporate Plan.
The products we sell must meet the needs of the times (aggressive acquisition of IP rights).
We must be able to respond to changes in social conditions (by paying attention to social and environmental issues).
We must be accepted by local communities and society (based on our contributions to employment equality, regional revitalization, and economic development).
All employees must be knowledgeable of corporate governance and conscious of the issues.
We particularly focus our efforts on human resource development as a top priority in "building a management foundation from an ESG perspective" the basic policy of our Medium-Term Corporate Plan.Regarding the impact of climate change-related risks and profit opportunities on our business activities, we conduct analyses based on 2°C and 4°C scenarios, and disclose climate change-related information on the themes recommended in the TCFD recommendations on our website.