The JCU Group makes every effort to preserve the global environment and contribute to the creation of sustainable societies.
JCU Environmental Policy
JCU's main business is the manufacture and sale of surface treatment chemicals with a focus on plating, and we make significant contributions to the advancement of society and enhancement of comfort in our daily lives by enabling miniaturization and greater densities for electronic devices, and improving the appearance and corrosion resistance of automobiles and other daily necessities. We also contribute to environmental preservation through efforts such as resource and energy conservation.
On the other hand, we not only consume electricity, water and other environmental resources in our product development, manufacturing and other business activities, but also discharge chemical substances into the environment in the form of waste and cleaning water.
In addition, the use of products that JCU supplies also has an affect on the environment, such as in the form of chemical discharges and energy consumption.
Taking these matters into consideration, we have established the JCU Environmental Policy below to make further efforts to preserve the environment.
1.Thoroughly ensure that chemical substances are managed properly and that preventive measures are implemented to minimize environmental pollution even in the event of anomalous events or emergency.
2.In order to reduce the environmental impact of our products as much as possible, make every effort to research and develop products and processes that are designed to minimize environmental impact, and thoroughly manage the environmentally controlled substances used in our products.
3.Promote waste reduction, and energy and resource conservation.
4.Run environmental management systems effectively and update them continually.
5.Comply with environmental laws and regulations, as well as customer requirements agreed to by JCU.
6.Ensure that employees of JCU as well as of companies and organizations, and workers contracted by JCU are all well-informed on this Environmental Policy, and make the Policy available to the general public.
Environmental Management System
The JCU Group has set up an environmental management system to realize its Environmental Policy. The head of the Niigata Plant is the Chief Environmental Management Officer, under whom is assigned a manager who, along with his or her deputy manager, takes care of the Group's environmental management.
The R&D Center and the Niigata Plant collect information on environment-related data and laws and regulations, and drive forward specific environmental conservation activities.
In addition, the JCU Group has acquired and continues to maintain its ISO14001 certification to improve its environmental performance. In Japan, our R&D Center, which is our center for research and development, and the Niigata Plant, which is our production base, were ISO14001 certified in May 2000 and continue to carry out management based on this standard. Outside of Japan, we have acquired ISO14001 certification at the business sites listed in the table and carry out ongoing environmental improvement activities at these sites.
◆

Overview of ISO14001 certification at offices in Japan

◆

Status of ISO14001 certification at overseas offices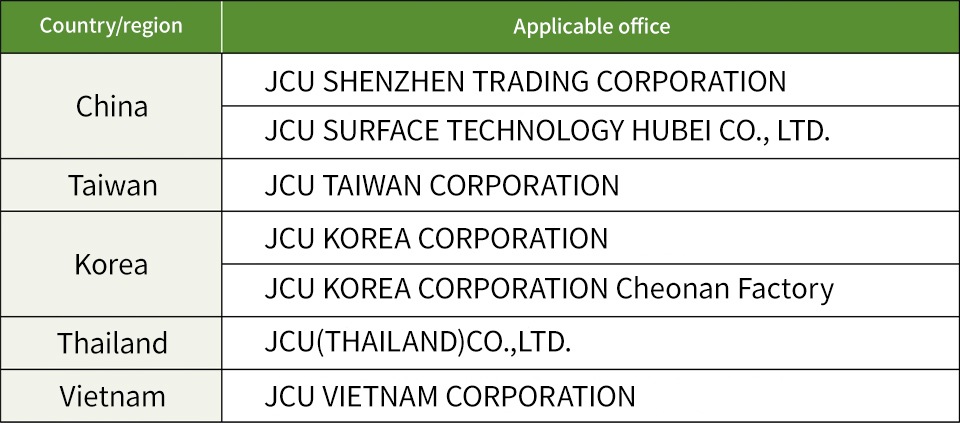 ◆

Environmental Management System Schematic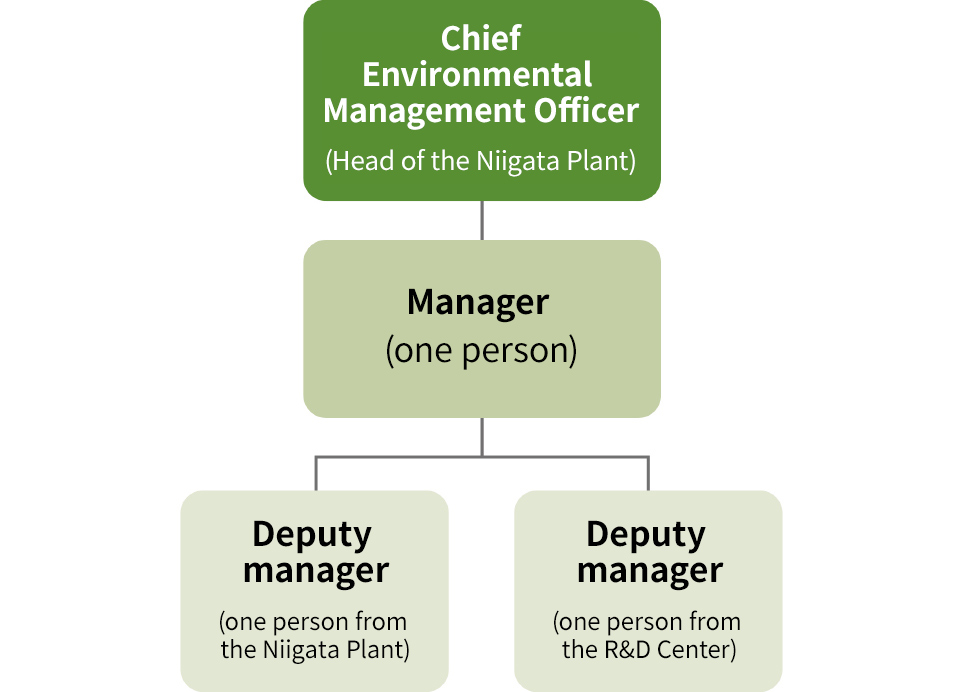 Environmental Action Plan
At the JCU Group, our initiatives are based on setting office-specific targets on major environmental themes.
In FY2021, we provided in-house education continuing from the previous fiscal year on laws, regulations, the environment, and chemical substances to improve the knowledge and awareness of our employees. In addition, in order to ensure compliance with laws and regulations, each site promotes the acquisition of qualifications by employees such as health manager and hazardous material handler in accordance with training plans.
The Niigata Plant and R&D Center continue to properly manage and reduce waste in order to improve our environmental performance. Although it was difficult to forecast production volumes due to the COVID-19 outbreak and supply chain disruptions, the Niigata Plant regularly checked and communicated changes in performance, and raised awareness on energy use reduction. The R&D Center succeeded in reducing electricity consumption and alkali effluents year-over-year as a result of activities such as regularly making the amounts of waste and energy consumption known throughout the organization.
Compliance with Laws and Regulations
In order to contribute to preserving the global environment and creating sustainable societies, the JCU Group complies with all relevant laws and regulations. We are working to raise awareness of applicable laws and regulations by acknowledging them company-wide to create a shared recognition. We also comply with environmental regulations such as the European Directive on the Restriction of Hazardous Substances (RoHS Directive), and the Regulation concerning the Registration Evaluation Authorization and Restriction of Chemicals (REACH regulation) to restrict the use of designated hazardous substances.