We at the JCU Group believe that making good use of the individual abilities of employees is a major pillar of our management, and are working to develop human resources and create comfortable working environments.
Comfortable Working Environment
Achieving Employee Retention

JCU carries out initiatives to ensure employee retention. We encourage employees to make use of opportunities to discover and develop their own abilities such as by taking self-development seminars, visiting trade shows that can potentially help grow our business, and taking language training courses. We also ask all individuals to use a goal management sheet to set their personal goals. The goal management sheet is designed to help individuals express their individual goals with more clarity, and check whether they are able to perform work that is a step above and is more rewarding for themselves. In addition, we are also enhancing our employee benefit programs as a way of creating a comfortable working environment.
As a measure of whether these initiatives contribute to employee retention, JCU calculates the new employee retention rate, average number of years of employment, and turnover rate.
The retention rate of new employees who joined the company over the past three years (from FY2019 to the FY2021) was 100%. The average number of years of employment was 15.4 years for men and 13.9 years for women, which were both higher than the previous fiscal year. Compared to the industry average years of employment (15.5 years for men, 11.7 years for women in manufacturing *1), these numbers were notably higher for women at more than 2 years higher than the industry average. The average number of years of employment has been trending gradually higher for both men and women since FY2017.
The turnover rate, which was 6.1% in the survey for the previous fiscal year, reached 4.8% in FY2021 *2 (Reference: The average turnover rate in the manufacturing industry for FY2021 was 5.1% *3). A breakdown of the turnover rate shows that 4.0% left for personal reasons, 0% for company reasons, and 0.8% for retirement or other reasons.
*1: Excerpted from the "Basic Survey on Wage Structure—Results and Overview" from the Ministry of Health, Labor and Welfare
*2: Rounded to the first decimal place.
*3: Excerpted from the "2021 Survey on Employment Trends—Results and Overview" from the Ministry of Health, Labor and Welfare
Harassment Countermeasures
As a measure to counter harassment, the JCU Group provides a permanent sexual and power harassment consultation section in-house. One male and female are assigned at all offices as contact persons in charge, and this is communicated to all employees on the intranet to create an environment where people feel comfortable seeking consultation. In addition, we have formulated a harassment prevention policy for all employees, and make every effort to prevent various types of harassment, resolve issues, and protect privacy.
In addition, we have also established a consultation desk outside the company (EAP/Employee Assistance Program) for addressing mental health and various harassment issues so that we are able to quickly act on stress and anxiety issues that employees may have. We provide mental health care training headed by EAP lecturers, distribute pamphlets and cards, and publish information on the intranet four times a year as part of our efforts to create an environment where all employees, including managers, are able to work comfortably.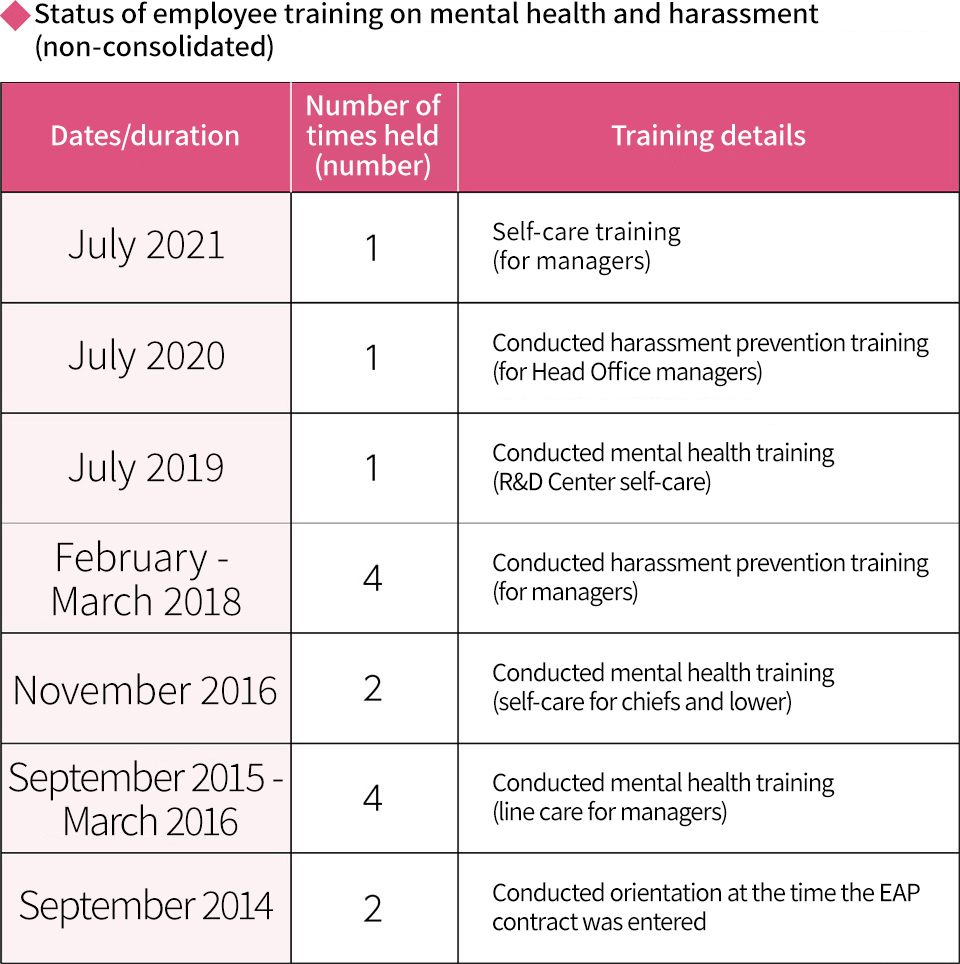 Diversity and Equal Opportunity
The JCU Group respects diversity and strives to realize equal opportunity. There are no gender differences in our terms of employment.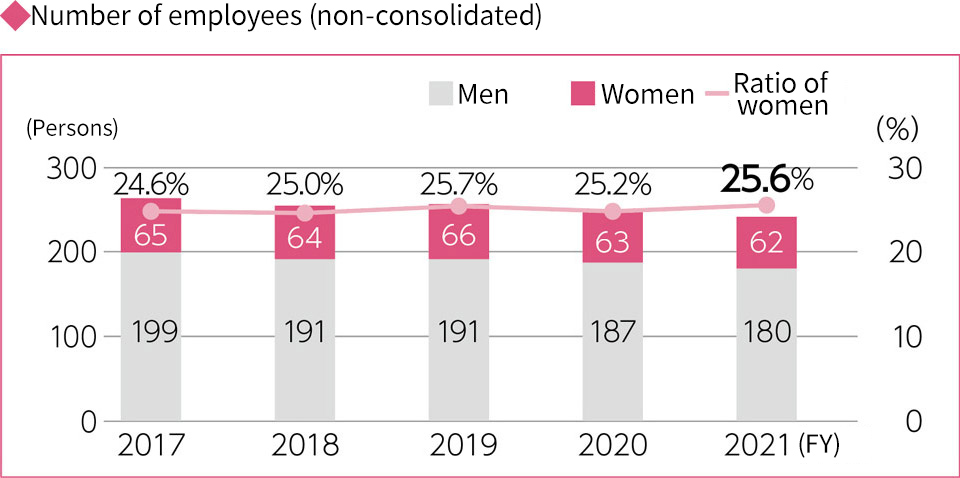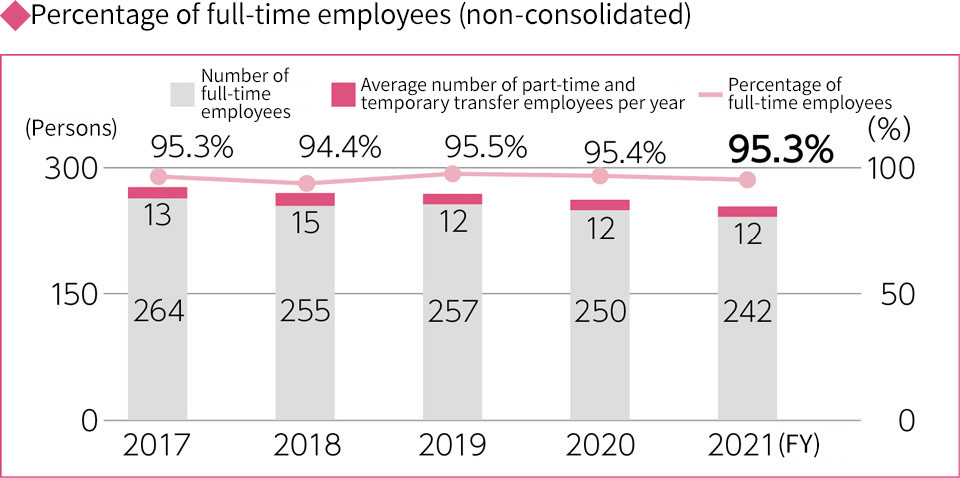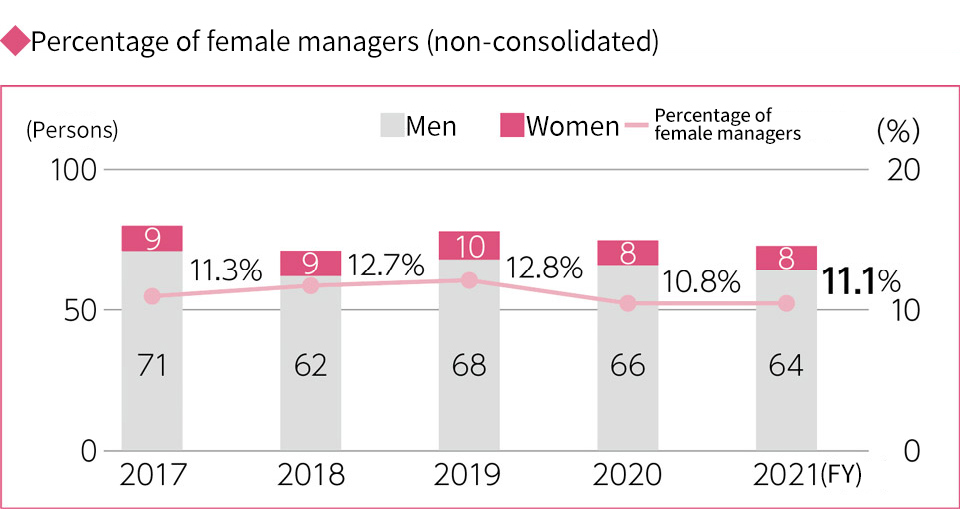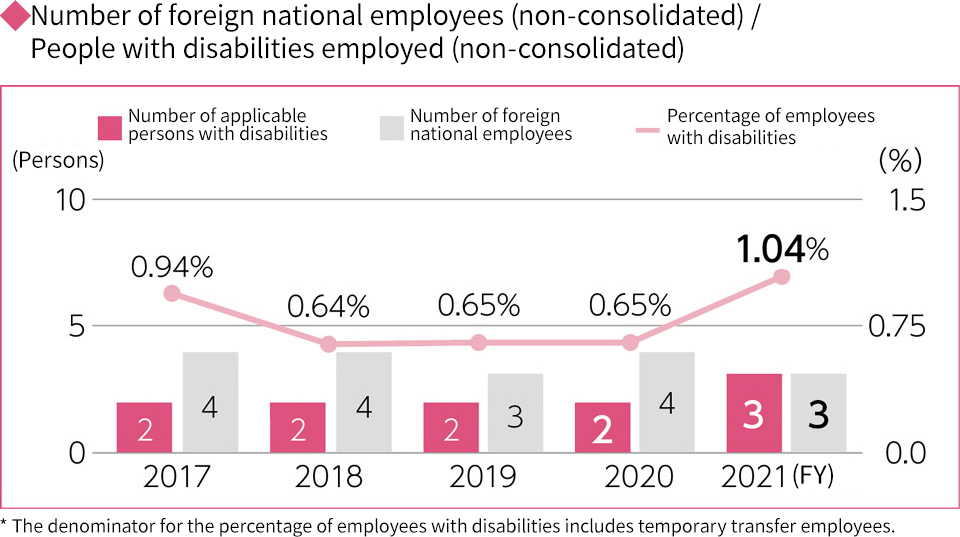 Childcare and Nursing Care
In order so that employees are able to make the most of diversity in performing their work, JCU provides a childcare leave program that allows employees to take more days off than the statutory days stipulated by the Ministry of Health, Labour and Welfare, and a shortened working hours program for childcare that is used by male employees as well. We also provide a similar nursing care leave program.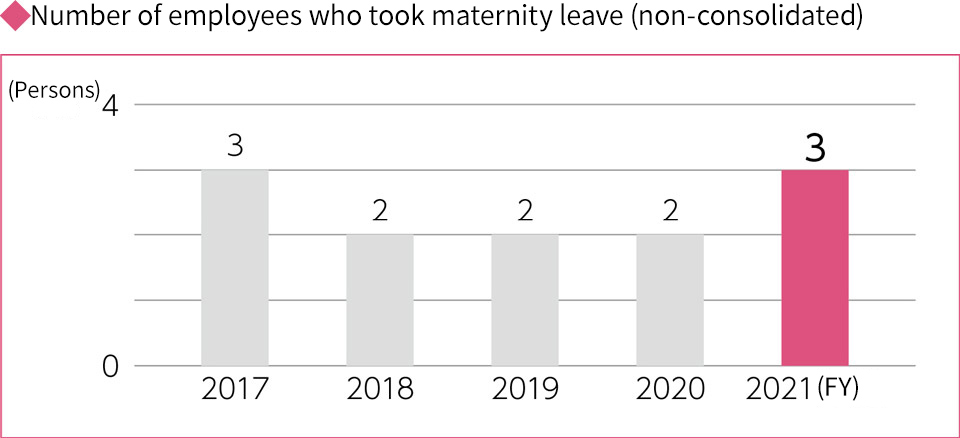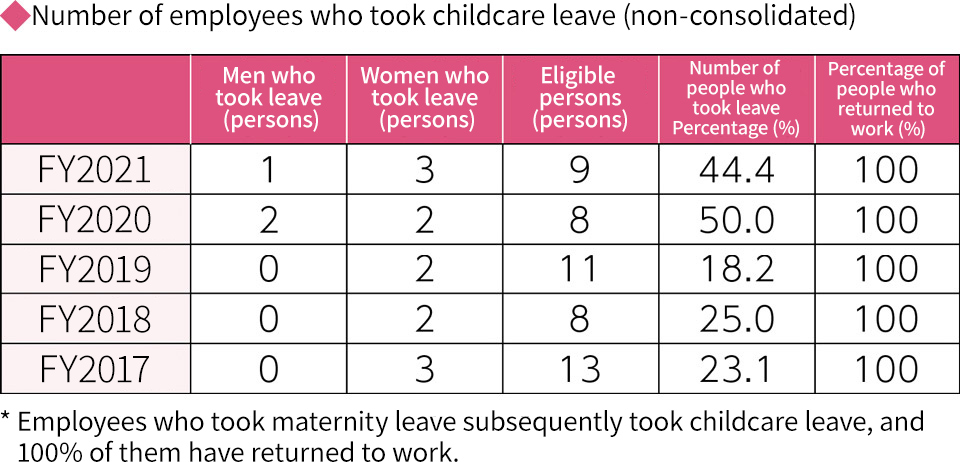 Overview of Maternity Leave, Childcare Leave, and Nursing Care Leave Programs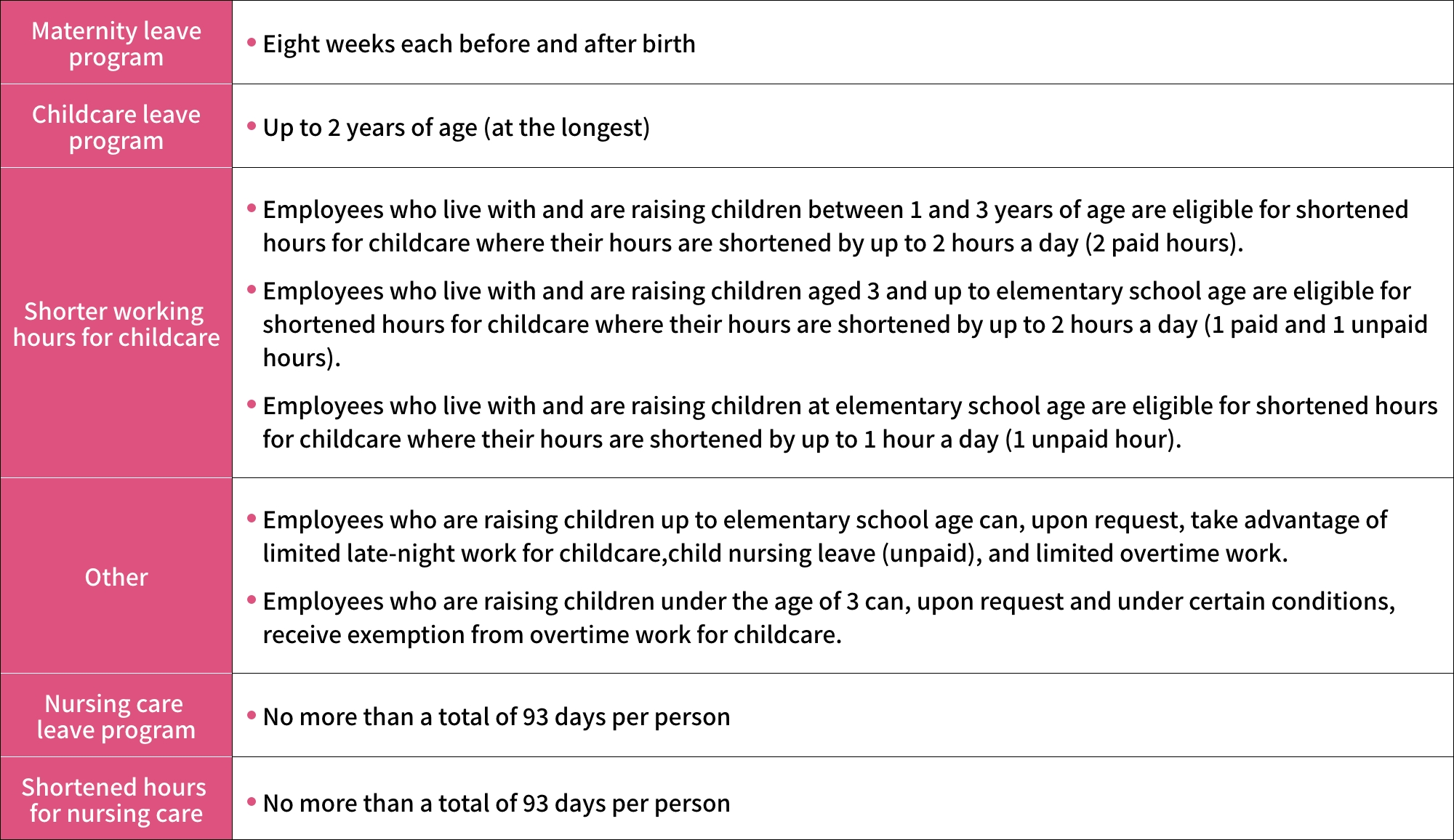 Human Resource Development
One of the basic policies of the JCU Group's Medium-Term Corporate Plan is "Creating a Management Foundation with Emphasis on ESG",and one of its top priorities is human resource development. The growth of each and every employee is essential to our goal of becoming a "global company that continues to grow sustainably". To this end, we are focused on enhancing our human resource development programs.
New employees undergo training in various departments for approximately two months after joining the company, including technical training in which they learn the principles of surface treatment through experiments, factory training in which they learn the chemical manufacturing process from raw material input to shipment, and sales training in which they accompany their seniors to customers' production sites where our chemicals are being used. This allows employees to experience the strengths of the JCU Group in the field, and acquire the basic knowledge that they will need to provide better products and services. In addition, we also conduct regular information security and compliance training to prevent information leaks and ensure compliance with laws and regulations.
As for human resource development initiatives implemented at different business sites, the Niigata Plant provides training to strengthen employees' ability to identify near misses and other problems. The R&D Center has adopted a skills matrix to provide employees with an objective view of their individual abilities and to raise their awareness of their aptitude. And the Sales Office has created a "Sales Capability Development Activity Plan Progress Management Sheet" to help employees acquire the necessary skills. Our overseas offices also held a variety of training sessions, including technical workshops and study sessions on laws and regulations to improve the skills of local employees.
Furthermore, JCU offers the following training programs to help employees grow in ways that are consistent with the globalization of our organization.
The JCU Group will continue to implement a variety of measures for the development of its employees.
◆

Human Resources That The JCU Group Seeks
Human Resource Required for JCU
Themes
Ability to create new ideas
Ability to provide good customer support

Upgrade specialized skills needed to develop products
Education to improve technology and sales skills of personnel in other countries
New system for giving Japanese employees experience at overseas JCU Group companies
Career path suitable for global system
Strategic deployment of human resource
Upgrade management training for current managers and people who may become managers

Global business people
Ability to use a management perspective
Language Training Program
We provide language training to improve our employees' abilities and promote their self-development activities. In FY2020, the training was temporarily suspended due to the COVID-19 outbreak, and was resumed in FY2021 as an online language training program.
Overseas Training Program
We launched an overseas training program for younger employees in FY2021. The objective of this program is to provide applicants who are interested in working overseas with a short-term work assignment at an overseas subsidiary, and through this experience, to help them grow into talents with a global perspective. We also expect employees to rediscover their individual aptitudes through direct exposure to different working styles and cultures they encounter in different countries.
◆

Training programs for human resource development

Healthy Labor-Management Relations
The JCU Group has an internal organization called the EUCO Association whose purpose is to ensure mutual welfare and fellowship among officers and employees. The organization's activities, which are carried out mainly by secretaries elected from individual departments, include proposing working condition improvements to the company, organizing various club activities, and planning and managing events such as employee trips.
Although club activities and events where large numbers of people were expected to gather were postponed in FY2021 continuing from the previous fiscal year due to the effects of COVID-19, regular communication activities between managers and employees were carried out through web conferences.
The EUCO Association gets its name from Ebara Udylite Corporation, the predecessor of JCU Corporation.
Respect for Human Rights
The JCU Group's Code of Conduct states that the Group does not discriminate based on race, creed, gender, age, social status, nationality, ethnicity, religion, or disability, etc. In addition, we carry out ongoing verifications at all business sites to ensure that child labor or forced labor is not employed.
Occupational Safety
At the JCU Group, we have formulated a set of Safety and Health Management Rules and make every effort to ensure the safety of our employees based on these rules. Safety and health leaders, and safety managers are assigned at all of our business sites in Japan to promote safety and health. Monthly safety and health committee meetings are held at the Head Office, R&D Center, and Niigata Plant.
These Committees carry out patrols, identify near-misses, organize firefighting and evacuation drills, and are working to realize safe workplaces where employees are highly aware of safety and health.
Employee Comments
JCU has chosen the "Prime Market" in the transfer to the Tokyo Stock Exchange's new market classification of April 2022. Corporate Governance Code revised in June 2021 specifically mentions "ensuring diversity" and "promotion of women."
We interviewed a female executive officer who had taken her post in April 2022 about what it feels like to be an executive officer, her work to date, and her future vision for the JCU Group.
Kanae Tokio,
General Manager,JCU TAIWAN CORPORATION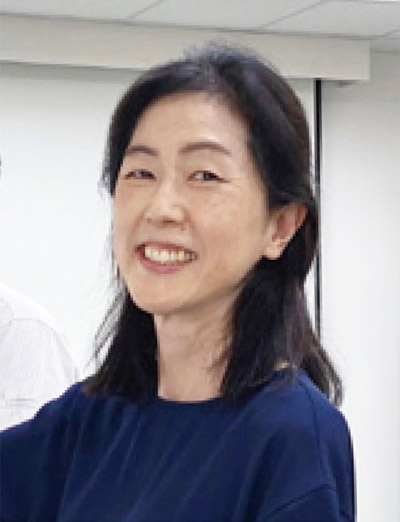 Q
Can you tell us about your career to date and any work experiences that may have been a turning point for you?
A
I have been engaged in research and development for about 25 years, mainly in the electronics field, since the time when the R&D Center was still called the Central Research Laboratory and located in Fujisawa City, Kanagawa Prefecture. I think the biggest turning point for me was when I became General Manager of our Taiwanese subsidiary in April 2020.
Since I was placed in charge of a local subsidiary, I had to acquire a management perspective, something that I did not have when I was at the Research Laboratory. It was also a great benefit for me to see Japan from abroad as this gave me a clearer picture of what our challenges were and what we still had to learn.
Q
Are there any words that you keep in mind throughout your career?
A
A phrase I keep in mind is what Peter Drucker said, "No one person can ever succeed on their own. An undertaking succeeds only when one person's strength is matched by the cooperation of others." And I have a real feeling for this. I believe that many of the goals I have achieved in the organization have been possible only with the support of those around me. It is important to not keep things to yourself and ask your colleagues for help.
Q
What is your opinion on diversity in the workplace, including the promotion of women?
A
For example, women playing active roles in business has become a frequent topic of conversation in recent years, but there are inevitably differences between men and women. There should be no "discrimination," but I do believe we need "distinction." There are tasks that men do well in and tasks that women do better in. In addition, we have people of various ethnic backgrounds working at our overseas offices. Although working styles vary depending on the industry, I would like to promote an environment where both men and women are able to play an active role while seeking ways that are unique to JCU.
Interview date: July 27, 2022